Accessories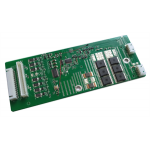 PCM or PCB ( protection circuit module or board ) is the "heart" of Lithium battery pack. It will protect Lithium battery pack from overcharging, over-discharging and over-drain, therefore it is the must to have to avoid Lithium battery pack from explosion, fire and damage.
Battery connection adapter to connect battery pack and load and charger. It is a guarantee of safety in battery applications.

There are no products to list in this category.